This page was last updated in March 2009.
Background
After months of political tension between the current administration of president Marc Ravalomanana and the mayor of Antananarivo, Andry Rajoelina, acts of violence and social unrest erupted in many Malagasy cities January 25-29. On January 24, a political demonstration led by Rajoelina gathered a significant crowd in Antananarivo to call for a national strike and demand the resignation of the current administration.
On January 25, attempts to seize a radio station by the authorities turned into a violent conflict that sparked further acts of violence and riots throughout the city. Shortly after, confrontations spread to the provinces, resulting in many deaths and properties damages. The political confrontations and violence escalated further when a transitional government was declared by the opposition in parallel to the current administration.
The culmination of violence occurred when armed forces fired at civilians marching onto the presidential palace. The country has since been marred by political stalemate featuring a plethora of mediation efforts by national and international delegations, a media war of words, wrestling over ministry offices, an opposition leader in hiding and an army mutiny. As last efforts at mediation are attempted, the prospects of martial law or civil war looms larger.
Global Voices Posts about the political struggle
07 Jul – Madagascar: Traditional and New Media Discuss Crisis Reporting
May 20 – Madagascar: Protester Freed, Journalists Demonstrate
May 10 – Madagascar: Foko Ushahidi SMS Alert System
May 03 – Growing Military Repression in Madagascar
Apr 25 – Madagascar: Transitional government tramples freedom of speech
Apr 19 – Madagascar: Fear of More Strife After President's Resignation
Apr 02 – Madagascar: Security forces harass bloggers and twitterers
Apr 01 – Causes and Consequences of the Coup in Madagascar
Mar 19 – Madagascar: Fear of Strife After President's Resignation
Mar 16 – Madagascar: A Changing of the Guard?
Mar 11 – Madagascar: Is military rule next?
Mar 10 – Madagascar: Media Misinformation and Hard Truths
Mar 04 – Madagascar: "I feel like in a war movie"
Feb 22 – Madagascar: A Resolution to the political crisis?
Feb 14 – Madagascar: Rumors terrorize Antananarivo
Feb 09 – Madagascar : Bloggers react to Red Saturday's bloodshed
Feb 07 – Madagascar: More than 25 killed in march to palace
Jan 31 – Madagascar: The mayor proclaims himself president
Jan 29 – Madagascar: "Unmitigated Disaster"
Jan 27 - Madagascar: "History repeats itself…as a farce"
Jan 27 – Madagascar: Negotiations canceled as unrest spreads
Jan 26 – Madagascar: More reports President Ravalomanana has fled
Jan 26 – Live Tweeting Madagascar: Antananarivo on fire
Global Voices in Malagasy and French
Many of the articles above have also been translated to other languages by Lingua. Please visit the English versions to see.
Live Twitter search for #Madagascar

Ushahidi: Online/SMS Citizen Reporting
The new Ushahidi tool allows Madagascar-based individuals to send information on incidents via SMS messages to a live online map. The system is managed by Foko Magagascar bloggers. The number for sending SMS to Ushahidi in Madagascar is 00447800000197
The FOKO Blog Club has been instrumental in supporting citizen media initiatives during the political struggle.
Photos
Andrydago from the Cyber Observer has disturbing photos of the violence, including bodies of children dead on the ground.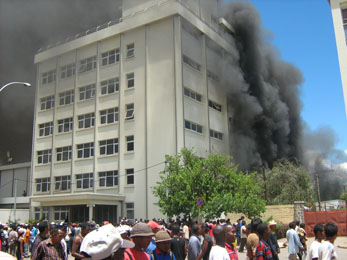 Fire on the streets of Antananarivo, by Jenilisa
Harinjaka uploaded some photos in his Flickr account:
For more information on online citizen media in Madagascar contact Global Voices Author, Lova Rakotomalala.