This article by Eli Bildner originally appeared on Tea Leaf Nation on February 20, 2013 and is republished as part of a content sharing agreement.
Nearly five weeks ago, Beijing experienced its worst day of air quality on record: Levels of PM2.5 — small particulates that can cause lung, cardiovascular and respiratory disease — soared to more than 30 times the level considered safe by the World Health Organization.
Air Quality in China — A Snapshot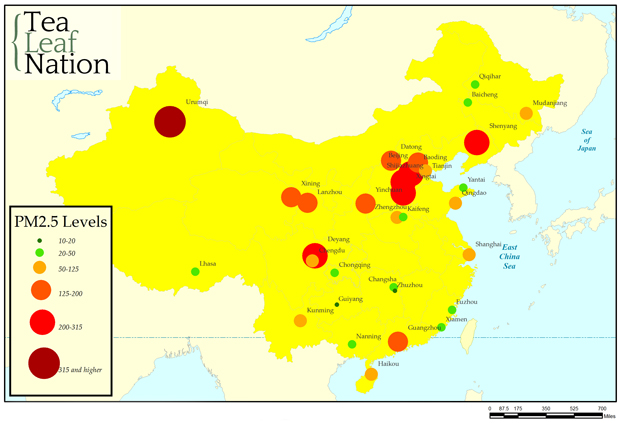 Since then, reporting on China's "airpocalypse" has been accompanied by what seems like a monochromatic slideshow of the country's iconic cities — Beijing, Shanghai, Tianjin —all smothered in thick smog.
Indeed, China's most populous and prosperous cities are among the epicenters of this latest pollution crisis. In Tianjin, for instance, levels of PM2.5 hit 577 on February 9, the eve of the Chinese New Year. In Beijing, sales of New Years' fireworks dropped 37% after the municipal government asked residents to limit their use.
But air quality in China is also a nationwide problem — a predicament that affects cities with far less name recognition than Beijing or a Shanghai. Last week, the People's Daily reported that of the 74 key cities monitored by China's Ministry of Environmental Protection, all 74 reported "excessive" PM2.5 concentrations on February 10, the first day of the Chinese New Year.
And as a glance at pollution figures from this morning shows, hazardous air conditions remain in cities throughout China, from Urumqi (with a PM2.5 concentration of 511 micrograms per cubic meter, or 20 times the recommended limit) to Guangzhou.

View China's Most Polluted Cities in a larger map
China's most polluted cities
1. Xingtai, Hebei
2. Shijiazhuang, Hebei
3. Baoding, Hebei
4. Handan, Hebei
5. Langfang, Hebei
6. Hengshui, Hebei
7. Jinan, Shandong
8. Tangshan, Hebei
9. Beijing
10. Zhengzhou, Henan

View China's Least Polluted Cities in a larger map
China's least polluted cities:
1. Haikuo, Hainan
2. Fuzhou, Fujian
3. Zhoushan, Zhejiang
4.X iamen, Fujian
5. Huizhou, Gunagdong
6. Zhaoqing, Guangdong
7. Shenzhen, Guangdong
8. Kunming, Yunnan
9. Lhasa, Tibet
10. Zhuhai, Guangdong
Top World Stories