Stories from 23 November 2012
About 100 people gathered in Sofia's central square to show their support for the victims of Israel's recent Operation Pillar of Defense in the Gaza Strip. Facebook page "Together for Palestine" [bg] has this photo of commemorative candles lit in Bulgaria's capital; another page, "Bulgaria supports Palestinian independence in the...
Sex workers in the city of San Salvador face ongoing discrimination, as well as potential health hazards from HIV and STDs. Others search for alternative forms of income, such as making piñatas, so that they can eventually leave this work behind.
Environmental activist and literature professor Dr. Wayne Kublalsingh has gone on a hunger strike to protest the construction of the Debe to Mon Desir section of a highway in southeastern Trinidad. Bloggers discuss whether his cause is worth his life.
Egyptian netizens are reporting Internet cuts around Tahrir Square, the epi-centre of the Egyptian revolution while others are saying it in working fine. If the Internet is being disrupted by the authorities, it brings to mind what happened on the second day of the start of the Egyptian revolution, when access to the Internet was cut off in Egypt on January 26, 2011.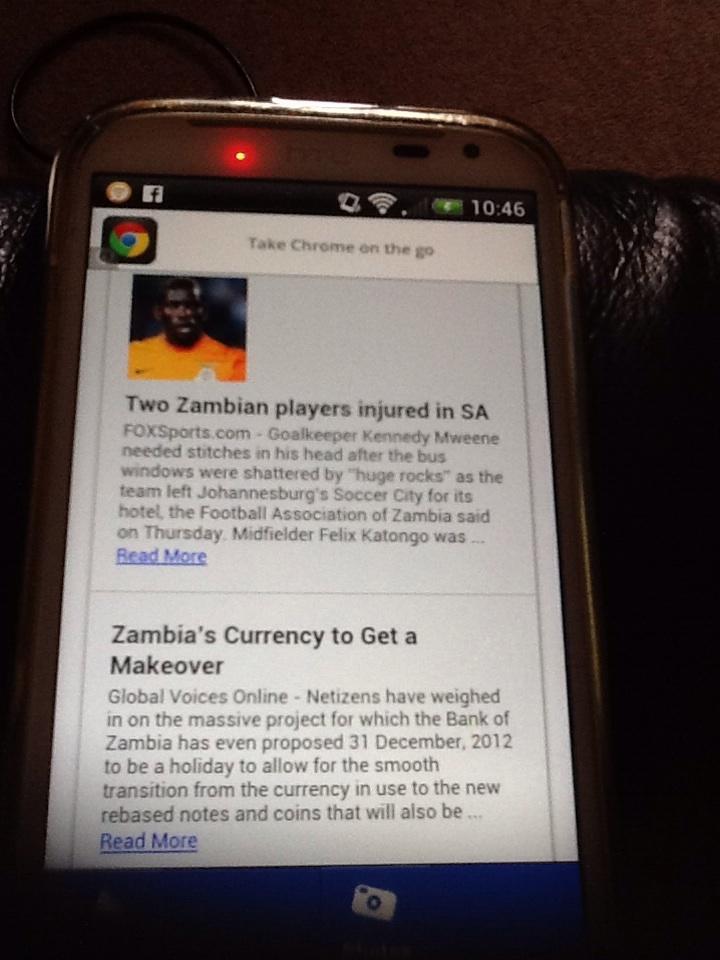 After an Android phone app that allows Zambians to participate in the on-going constitution making process was developed, a couple of new apps, Zambia News Daily and The Zambian, which collate news about the country from a number of online sources, have appeared on the market.
How can individuals hold the extractive industries accountable for the impacts – poisoned water, food, and heightened conflict are a few examples – of its activities? One project, called La Cuidadora, provides an information sharing network to assist indigenous communities in better protecting themselves from these impacts.
Iran Abad writes with irony that Iran's regime has an extraordinary talent to take Iranian economy back to the Stone Age.The blogger mentions several examples such as giving more incentives to buying luxury cars than purchasing medicine.
Several bloggers reported that security forces arrested ten members of Pan-Iranist Party in Iran. Neshador writes media remained silent about this case. [Update:most of them were released after few days of detention]
On November 20, Brazil celebrated Black Awareness Day; in honor of the day, we invite you to watch the documentary Raíz Forte (Strong Roots), "start a discussion about hair in terms of belonging to and explaining our African ancestry." The film depicts social prejudices and how black women in Brazil have historically dealt with their hair.
The picture above is the screen capture of a TV report on a house, which stands in the middle of a highway near the railway station in Taizhou, Wenlin, Zhejiang province. As the relocation settlement is not enough for the reconstruction of his 5-story-building, the owner refused to move and...
A number of state-controlled media outlets ran articles criticizing the process of re-education through the labour system. Some netizens are speculating that this may be a sign of impending legal reform under the new leadership of the Chinese Communist Party after the 18th Party Congress. (more from China Media Project)
In the following guest article, J.J. Merelo, Doctor in Physics and Professor at the University of Granada, Spain, tells us of his experience organising educational hackathons in light of the regional Hackathon, "Developing Latin America 2012 "which will take place next December.
Tsering Woeser, a dissent writer who reports on the human rights situation in Tibet, has collected 19 last wills and testaments of Tibetans who self-immolated to help people understand their grievances.