The heavy downpour last month caused heavy floods and landslides in the country, affecting homes of more than 200 families, leading to loss of milllions in property and crops in all the four districts in the country. This has made the community to come together to pledge help for the less fortunate and those affected by the natural disaster.
A public fund to help the victims from the recent flood and landslide was set up by the Ministry of Home Affairs on 3rd February 2009. The intention is to help ease some of the difficulties faced by the victims in getting back to their normal life. As part of the efforts to collect donation to this fund, charity drives have been organized in recent weeks for the benefit of the National Fund for the Flood and Landslide Victims. This is an example of how resilient the local community in helping one another. Masyarakat Perihatin is a Malay phrase which means a caring society.
For example, the Orchid Garden Hotel spearheaded a cupcake charity. The hotel succeeded in selling more than 2,000 cupcakes. It proudly displayed a 25-tiered cake made up of 250 kg of cupcakes. The whole structure measured seven feet by seven feet wide and 16 feet tall.
Photo by Strictly Beautiful

Ranoadidas reported about the cupcake charity event and another fund drive which sold 900 coupons of Nasi Lemak, a popular local dish:
The Cupcake charity at The Orchid Garden Hotel managed to sell 2,000 cupcakes. That's amazing numbers. Another charity event was held at D' Other Office Cafe and Bistro, where almost 900 coupons of Nasi Lemak ( local rice dish cooked in coconut milk) and Egg Tart combined was sold to the public.
Photos courtesy of Ranoadidas
AnakBrunei reported on the charity football event which gathered at least B$100,000:
Match between DPMM FC and FFBD XI. The match was organized by the Football Federation of Brunei Darussalam . All proceeds (nearly B$100k from what I gather) will be donated to the Fund for Flood and Landslide Victims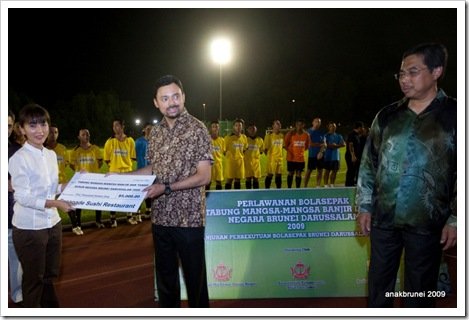 The picture above shows His Royal Highness the Crown Prince , chairman of DPMM Football club handing over the money collected from the football charity drive to the chairman of the Flood and Landslide Victims Fund.
Top World Stories