As part of the efforts to nurture new IT companies, Brunei Economic Development Board (BEDB) recently organised a Think Big business plan competition,
launched in August 2008, offers the largest cash prize awards of its kind in Brunei Darussalam. The main aim is to motivate local entrepreneurs to realise their ideas in the field of information and communications technology (ICT) with the opportunity to develop their business ideas and enhance their creativity; as well as to provide a platform for identifying, nurturing and showcasing entrepreneurial talents in Brunei. This competition also provides the participants access to global resources and the entrepreneurial process through workshops and mentoring programme.
39 ICT enthusiasts including 7 iCentre incubatees with background ranging from online games and shops, online malls and schools, portal, social networking, mobile applications to enterprise solutions. RanoAdidas, one of the well-known local blogger and finalist in the competition, sees
the judges are pretty tough as well and it's like a simulated pitch to real investors and venture capitalists (VC). This exercise has given me more experience and also the confidence to pitch to potential investors one day. I hope iCentre will continue this competition to encourage more participants and of course, encouraging more entrepreneurs.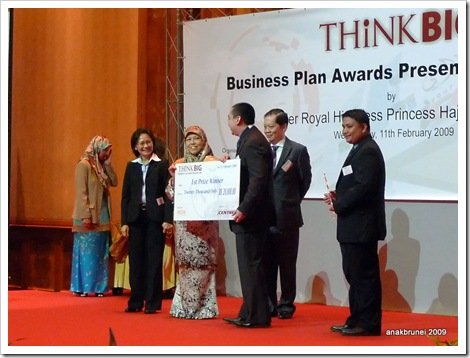 As reported by  AnakBrunei, the winners are:
Winning the ICT Business Plan category was Brumesh by Rafiqun WDSI with cash prize of $20,000;
YouGotSnapped by Expansys Technology in the second place with cash prize of $10,000;
Outsource Contact Centre by 24-7 Assist in the third place with cash prize of $5,000.
the Special Islamic Merit Award for Islamic Application was given to Mimit e-Technology with a cash prize of $2,000.
Interesting enough, three of the winners have also recently  inked separate deals with Philippine-based Crestar Communications, which will provide the platform for the iCentre firms to tap into the Philippine ICT market, as reported by the Brunei Times.
Antonio Peralta, Crestar chief executive, said the collaboration with the iCentre companies is a defining step towards the realisation of Brunei's goal of becoming a hub for ICT in the Bimp-Eaga region.

Expansys Technologies aims to launch its text or short messaging system gateway technology as the preferred platform in delivering the integrated systems of Mesh, IPTV and GPS technology in the Philippines.

Mimit e-Technology intends to launch its V-track system, a global positioning system tracking system for fleets as well as e-ilmu, an Islamic mobile content application developed for the Muslim communities in the Philippines.

Rafiqun WDSI plans to deliver its Wireless Mesh Device and IPTV to serve the Philippines market.

They will also be bringing in their expertise in wireless design, e-commerce and e-government consultancy services to the country.

Congratulations to those  winning IT companies that are going regional! Hope this will serve an inspiration for other new IT companies or SMEs that are thinking of venturing regionally!
Top World Stories