What if one day Jesus and Buddha descended to Earth to spend their holidays? And what if they lived together in a cheap apartment in Tachikawa, in western Tokyo? This is what Hikaru Nakamura (中村光) [jp], a young Japanese manga author, was thinking of when he she came up with Saint Oniisan (聖☆おにいさん [jp], lit. Saint Young Men), a manga published in the monthly magazine Morning 2 (モーニング2) in 2007 that become a hit in the last few months after the publication of the first two episodes as single volumes last year.

The cover of Saint Young Men, vol.1
Among bloggers enthusiastic about Nakamura's manga, many appreciated the sense of humour of gags with a religious element. But many were also those, like blogger miyu, who pointed out how those funny jokes are, in reality, very well-thought out.
ブッダとイエスが、バカンスに下界へ降りてごく普通に生活するという話。
お金に細かいブッダ。
衝動買いするイエス。[…]
It is the story of Buddha and Jesus, who come down to Earth on their holidays and live very normal lives.
Buddha, particular about money.
Jesus, and his impulsive buying. […]
感想は、
『やっぱ読んでよかった~♪♪♪』
[…]、ブッダやイエスがTシャツにジーパンってだけで笑えるもんね。
2巻の表紙のイエスかっこいいし。笑[…]
この漫画描くの大変そうだなぁ。
ネタがいちいちおもしろいから、よく考え付くなぁと感心しながら読んでいます♪
My personal impression?
"I'm so happy to have read it"
[…] Just seeing Buddha and Jesus wearing a t-shirt and blue jeans, you have to laugh.
And Jesus on the cover of the second issue is so cool. […]
This kind of story seems however very hard to draw though.
Each joke is so funny, I am really impressed as I read [the manga] at how he she managed to come up with it.
Similarly, Chihaya_K_Amou's words express the level at which this story struck a chord with its readers:
すごく笑いました!
ギャグとしても笑えるのですが、ネタがわかると何倍も面白い!
キリスト教ネタも仏教ネタもわかるともう最高に面白いです。
こういうマンガは日本人でないと描けないでしょうね。
そして、こういうマンガを心から楽しく読めるのも日本人でないと無理かなーと。
日本人に生まれてよかったよ、自分。
個人的に。
自分の近所にこういうおにいさんたちが住んでいたらぜひお友達になりたいね!(笑)
I laughed so much!
The gags themselves are very funny, but if you understand the [religious] jokes it is ten times funnier! And, indeed, you laugh much more heartily when you get all the Christian and Buddhist jokes.
Only a Japanese can write manga like this, no? And I wonder whether it is only Japanese who can really enjoy this manga.
I'm happy to have been born Japanese.
Personally, if young men like these lived in my neighbourhood, I'd be looking forward to becoming their friend!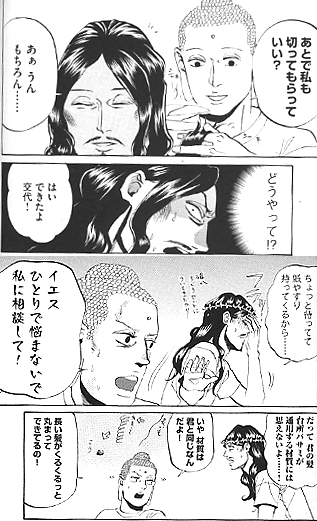 One scene from the manga.
As mentioned in an interview published at Jump Square magazine [ja], Nakamura has always been interested in Christian iconography, but he she is not a believer nor an expert of religions. So when this topic came to his her mind he decided not to pursue deeper research on the topic in order to keep the content from becoming too complex and difficult for people to understand. The jokes and the gags had to be simple and direct, recognizable and at the same time funny for everybody. But, unfortunately, there are some readers who didn't appreciate this "light spirit" and, like Monamona, disapproved of critics who approved of Saint Young Men.
聖おにいさん評判が高いので買ってみました。
イエスと仏陀が現代に降臨して共同生活ってのは面白い設定です。
でも筆者にはいくらでも面白くなるこの設定を活かすだけの教養がない。
せめて聖書や日本語訳のお経くらいでも読めばいくらでもネタは転がっているだろうに、それさえしてない感じ。
一番ひどいのは神社と寺の区別がついてない(二巻)あたり。
編集者も気付けよ。
こんなレベルで「このマンガがスゴイ」のトップになってしまうあたり
審査員のレベルの低さも推して知るべし。
ネットの評判だけで楽しみにしてただけにホントがっかりという感想です。
I tried to buy "Saint Young Men" because I heard that the reputation was good.
And the setting itself is interesting, Jesus and Buddha who descend to the contemporary world and live together.
However, the author doesn't have the cultivation needed to bring this interesting setting to life.
Just by reading the Bible or the Japanese translation of the Sutras [it's clear] that there are many potential jokes there, but there is no trace of those [in the manga].
And the worst thing is that in the second volume he makes no distinction between a jinja [shintoist temple] and a tera [buddhist temple].
Editors, take note of this!
The very fact that even at this level [of quality] the critics consider "this manga fantastic" and place it at the top of the rankings makes me assume that the level of the critics is low too.
I was at least looking forward to reading impressions from the internet [community] on this [manga], but I was really disappointed.
Lastly, blogger yamada considers this manga, which is a parody of the two main spiritual figures, to be a product of the religious syncretism that is peculiar to Japan since ancient times.
肝心の内容の感想はというとおもしろい!!の一言です。ひさしぶりにギャグマンガで大笑いした気がします。
特に個人的にお気に入りはイエスがプールの中でモーゼのようになる!というシーンです。
あそこ以外にもおおむね宗教ギャグ関係は笑えました。
If I had to express my opinion about the main content [of this manga] in one word, it would be: funny! It's been a while since I laughed so hard at gag manga.
Personally, the scene that I really liked is the one where Jesus enters the pool and becomes like Moses!
ですが、一番気になるのはこの作品は日本独自のものなのだろうなぁということです。
正月にはお寺で除夜の鐘を聞き、その足で初詣に出かけ、クリスマスにはパーティーをするという宗教の雑多ぶりがこのマンガを生み出したんじゃないでしょうか?
とりあえずこれを真剣なキリスト教徒の方などに読んでもらって感想を聞きたいな~などと思った次第であります。
However what is most interesting to me is that this work of art is probably a Japanese original product.
Listening to the tolling of temple bells on New Year's Eve, then paying the first visit of the year to a temple and having a party on Christmas, this [Japanese] hotchpotch of religious habits, isn't this the origin of this manga?
The first thing I thought is that I'd really like a fervent Christian believer to read it and hear their opinion about it.
Top World Stories