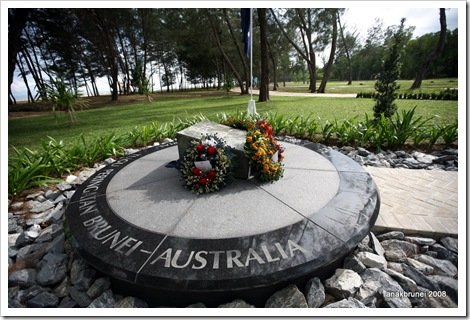 Photo courtesy of AnakBrunei.
AnakBrunei reports on the recent unveiling of the Brunei-Australia Memorial at Muara beach, just 13 km outside the capital, Bandar Seri Begawan by dignitaries from Brunei and Australia, witnessed by Australian war veterans.  This is in commemoration of the Australian landings at Muara or 'Green beach'  in June 1945, during the Second World War and the cooperation between the people of Brunei Darussalam and Australia. The site of the memorial is where the Australians landed during Operation OBOE 6. The memorial is accompanied by an interpretive panel detailing the story of the Brunei operation.
According to AnakBrunei,
The black Australian granite especially honours the 114 Australians who were killed and 221 who were wounded during Operation OBOE 6. The inscription on the plaque reads «1945 in memory», surrounded by the words «Brunei-Australia Memorial» in English, Malay and Jawi.
Other Australian war memorials in Borneo include those in Labuan and Sandakan.
Top World Stories