It's been just one month since Congolese President Joseph Kabila named a new government in an effort to quell mounting criticism over his inability to quell rebel violence in the east, and many bloggers remain skeptical about the country's future.
A lot has been written about Congo's precarious situation (see posts by GV author Elia Varela Serra, who has closely followed recent developments), but sometimes a picture is worth a thousand words.
Alex Engwete posts this cartoon, produced by Human Rights Watch, which satirizes Kabila's shutting out of civil society and opposition voices and the tacit support of foreign donors.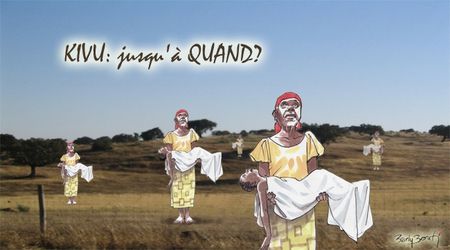 (Image by Barly Baruti)
Journalist Cedric Kalonji posts these political cartoons on his Flickr photostream:
Mustached man: "For all the information you need, go to the source"
Girl, left: "MOTHER, the government is in place, but I didn't see your name.  What happened?"
Woman, right: "Ah!  But they forgot Article 14 of the Constitution…"
(Article 14 mandates equal gender representation at all levels, national, provincial and local.)
Top World Stories