Mach 7, 2008 is a special day for Taiwan. It's not for the coming presidential election, but for 2008 IBAF Final Olympic Qualification Tournament(zh) The tournament is being played in Mid-Taiwan!
While soccer is the national sports of most countries in the world, baseball is the pride of Taiwan. Once the international baseball games held, Taiwanese could lay aside their works, even their family and lovers, just in order to cheer our pride in the field or at the television. If you think it's exaggerated, why not take a look at the game on Monday evening?
Taiwan baseball team met Canada on March 10. The massive fans watched the live broadcast, and relayed the progress on Twitter and PTT BBS (the largest campus internet service in Taiwan), to those who couldn't watch the cast, like me. As the situation was getting more and more intense, the fans were all nervous. When Kuo-Hui Lo(zh)hit a 3-run HR that helped Taiwan take the lead in the bottom of sixth inning, not only sportscasters and fans in the field went crazy, but also fans on the internet due to our loud shouts, "Go Taiwan Baseball Team, Toward Beijing Olympic Games!"

As the game came into the end,the catcher of Taiwan team, CHUN-CHANG YEH, was collided by Canada player in order to prevent Taiwan from being scored. I really doubted if any Taiwanese not patriots then. Chensumi(zh) said:
誰看到葉君璋以小號無敵鐵金剛之軀,護住本壘版的畫面,倘若不激動落淚的,那你就真得不是台灣球迷。那時的小葉,巨大如同一片天,替我們頂下那一分,多麼剛猛啊!

If you saw the scene that CHUN-CHANG YEH defended the plate with his body but not excited, then you must not be a fan of Taiwan. YEH was as giant as the sky. How brave he is!
Anchor Tsai Ming Li wrote in his blog, that as an anchor he repeatedly persuade fans no to throw cans and bottles into the field. But in the atmosphere at the moment he understood fans' feeling though he still discouraged the behaviors done by certain fans.
或許,部份球迷不像我們知道,太過於衝動會被沒收比賽,但是在那個當下,如果還能冷靜,還要控制EQ,我想,棒球就不可能叫台灣的國球了。就好像你看到你 的親人或好友被外人侵犯,當然是先力挺再說,怎麼可能還考慮太多呢?這是台灣球迷與中華隊密不可分的感情所致,這也是加拿大等外隊永遠不能理解的事情。雖 然,我們都知道不該丟瓶罐等進場。

Maybe some fans do not know like us that games will be called off if chaotic situations happen. At that moment, however, if people can still calm down or handle their emotions, baseball would never be the national sports of Taiwan. This is something that Canadian or other teams never understand, although we all know it is inappropriate to throw bottles and cans into the field.
The dramatic turn-over squeezed hearts of all Taiwan baseball fans. People yelled out and prayed and collect "Qi"(supernatural power…if existed), hoping that the Chinese Taipei can reverse the inferiority at the end the game. At this point, a cat was also a good object to ask for favor:
比賽一路打到延長,我忍不住把CT貓(是的,是毛咪)抱出去,跟她交換條件:每打一隻安打,就給妳一條魷魚絲~毛咪在王子揮出安打時順利地吃到了,於是我繼續跟她交換條件:如果全壘打,我整包都餵妳!

The game extended to extra innings, and I couldn't stand any longer. I carried Chinese Taipei cat(yes, that is my Maomi's new name) out and negotiate with her:you can have a strand of shredded squid for each hit. Maomi had her first strand while Prince(nickname of player Chang Tai-Shan) brought out a hit. Therefore, the negotiation continued: just one home run, you can have the whole pack!
Chyng's cat, Maomi.
但此時毛咪似乎被我因泰山安打的雀躍驚到,一直想落跑,正當我想去拿整包魷魚絲來安撫她而跳下椅子時,就,雙殺了。不誇張,我真的整隻趴倒在電視前然後被媽媽罵神經病,嗚嗚嗚~~

But Maomi seemed frightened by my joyful leap for Chang Tai-Shan's hit, and tried to runaway. At the very moment I decided to comfort her with the whole pack of shredded squid and jump down the chair…came a double play. No exaggeration: I really fell prone down on the floor in front of the TV set and then hence got scolded by my mom as nuts….(cry~~)
The words above are from dedicated journalist Chyng who covers social movement and environmental issues. The style in the quotes above are far different from her rigid news reports. She was not alone as a crazy fan. On the micro-blogging platform twitter, started by Benjamin who lives in New Zealand, the "Change your head to Chinese Taipei(Taiwan) Icon" had flooded the whole twitter page with red and blue. It looks spectacular when we were "all together". Even though Chinese Taipei(Taiwan) lost the game for one point, they had won our hearts.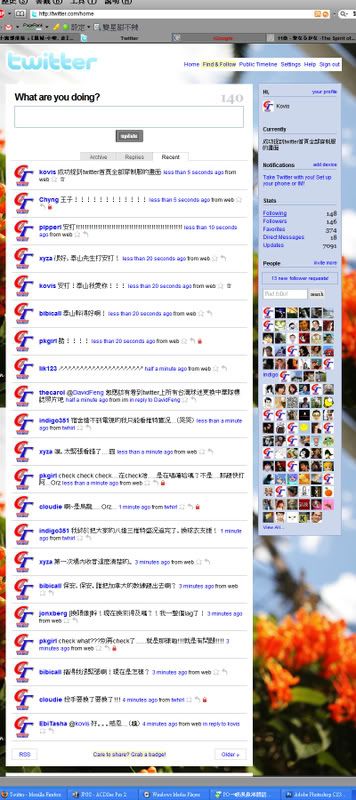 Just like Annpo put, the team that fought till the end lights the glory of Taiwan again, and unites Taiwanese.
奮戰進入了延長賽,依然不放棄,到了最後,雖然輸,也輸得漂亮。這是一個不畏強敵,穩穩地迎戰的比賽。每一局,都是經典的典範。很慶幸,我們都沒錯過這樣的一幕,在那一刻,一起哭,一起笑,一起祈禱,一起罵髒話,一起說:「中華隊加油!」我們是一起的,我們在同個島上,同個天空下,同個旗幟前,同個目標的起點,我們要一起說:「中華隊,加油!」

We fought to the extra-inning and didn't give up. Thought we lost at the end, we were still proud of it. It's a glorious loss. It's a game that we were not afraid of the enemy and fought bravely.
Every inning is an ideal. We fortunately didn't miss that moment at which we cried, laughed, prayed, damned, and said "GO! Taiwan Baseball Team!" together. We are united. We are on the same island, under the same sky, in front of the same flags, and at the same starting point for the same goal. We'd like to say, "Go! Chinese Taipei!" together.
Klairelee, who was working in Hong Kong on that day, also tied with people in Taiwan closely through web-casting. He said that we're so lucky to have Rock and Roll and Baseball.
Let me live, and make a brand new start!
這不也就是中華隊跟我們這些球迷的心情嗎?每次遇到人生的低潮時期,我總會很慶幸,還好我們有搖滾樂!
這次的《八搶三資格賽》來得正是時候,不管亞錦賽讓我們有多麼挫折,也不管這大環境讓太多人感到侷促不安,我們都該很慶幸地說:「還好我們有棒球!」,我們可以在這個時候放下彼此的成見,用共同的信念來替中華隊加油!這是多麼熱血的一件事啊!

Isn't that just heartfelt wishes of fans like us and Chinese Taipei? Every time I'm caught in low tide in my life, I'm always grateful that we still have Rock and Roll.
This tournament is just at the time. Whatever frustration Asia Baseball Championship brought to us, and however squirmed the environment made us feel, we should gratefully say, "We still Have baseball!" We could lay aside all the prejudices to cheer for Taiwan with common faith. How hot-blooded it is!
Yes, we still have Baseball.
Go Taiwan Baseball Team, Toward Beijing Olympic Games!
Top World Stories