Save the Houses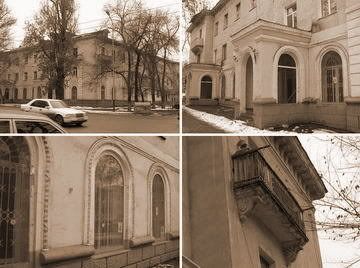 Photo by Adam Kesher
Blogger Adam Kesher is displeased: the "Stalin's" house next to his own is going to be replaced by a new fancy building. These houses, built before the Second World War (1935-1938) or after (till 1955) are notable for their scale, high ceilings so rare in later Soviet block houses, huge halls and thick walls. They have nice backyards and old-style lifts. Situated mostly in the centre of Almaty, "stalinkas" for a long time represented quality and well-being.
Adam wrote (RUS): "This is my yard, as Americans would say – my "community" – which I want to keep for my children and grandchildren. The construction companies say that the replacement is inevitable. This is not true. Anyone who has been to the countries where people cherish their history and their old districts knows that. I would really like the city authorities to spend a part of the budget to renovate the 1930-1950ss buildings, maybe adding some new details to their facades – mosaic, wall-painting, balconies art nouveau … I must be an idiot."
What Adam is talking about is a part of a bigger government campaign on demolition of the old houses in the city, which is itself just over 100 years old. The maps, which indicate the districts to be demolished, circulated around for a while, even when they were not made public.
The houses, built at the time when Khrushchev was the First Secretary of the Communist Party, from 1953 to 1964, are to be destroyed too. The district with lots of "khrushchevkas" is dubbed "The Golden Square", and each house is marked with a memorial desk about an artist or a writer that used to live there. Its inhabitants went on a hunger strike, as wrote KUB blog (RUS), demanding fair compensation for their flats. After several days of striking and negotiating, the inhabitants of the houses were promised higher compensation and ended their protest.
Kazakhstanis in Afghanistan
On February 1989, the last Soviet troops were deployed from Afghanistan, where the Soviet Union supported Afghanistan's Marxist People's Democratic Party of Afghanistan (PDPA) government against the Mujahideen insurgents and suffered considerable losses, with hardly any results achieved. Around 22.000 Kazakhstanis took part in this Cold War game, being sent to Afghanistan as conscripts (1.5 years for soldiers and 2 years for officers). 761 people died and were buried in Kazakhstan, 21 dissapeared, according to the Kazakh Military Office's data for 1 January 1990.
neweurasia's Vitaly Mantrov interviewed (RUS) the veteran of the war in Afghanistan, an "Agfhani", as Kazakhs would say. Sharipzhan Utegenov was 19 when he was drawn to the army and sent to Afghanistan:
"There was an ideology, the need to protect the Southern borders of our Motherland. To say "no" meant to get a public dissaproval. Many didn't want to go, but because of friendship and soldiers' honor, rarely anyone dared to refuse… I didn't even think about staying, knowing that all my friends would go to war. We were brought up like that …
We didn't realise what Agfhanistan was like, that there was a war. How could it be possible? 1982 was a year of stagnation in the Soviet Union. Peaceful life. The first time I began to comprehend that I was going to war was when we were crossing the Afghan border. On December 12, when we approached the border in the trucks, we were told: "We are now crossing the Soviet-Afghan border. There are combat activities of the opposition. We have to give our brotherly support. We will possibly be shot at. Don't panick, don't jump off the car. Just lie down". We laughed at it. In half an hour the shooting began… After a while, I had a feeling that I spent all my life in the army, and I had no life before, and I would stay there forever".
"In 1985 I came back home and I was lost. 1882 was calm and quiet. Then there was "perestroika". We left the Socialist country and returned to a chaos, pseudo-democracy. Anyone could shout whatever they wanted. There were queues everywhere. No jobs, no salaries. Soul-searching. We came back thinking that the state was waiting for its heros. No one cared, many didn't even know there was a war … There is a feeling that we were used: dropped in the middle of fire when everyone was peacefully studying, earning money, making careers – and then forgotten.
Young people now don't know anything about that war. I was in one school recently. For 40 minutes I spoke about the war in Afghanistan, about politics and its victims. When I finished, one of the pupils said: "How many Germans did you kill?".
The Red Army Day is still the day …
… when they congratulate men in Kazakhstan.
nemtschin wrote (RUS): Guys, happy holidays! I am from a military family myself. My father was a senior warrant officer, operator and is now a pensioner, my uncle was a Captain, grandfather – a Colonel, ended his service as a head of medical supply of Central Asian military district. I spent my childhood on a military object in DDR, where soldiers and officers visited us, at home we had uniforms, caps, shoulder-straps, and belts, which were often used on me for not observing the subordination … 23 February was always a holiday for my family, even when it was not anymore in Kazakhstan. I was proud when the USSR Minister of Defense was saying in his speech: "Comrades officers!", I thought he was saying it to my father.
Top World Stories