For the past four evenings, thousands of people have been gathering at Kastrychnitskaya (Oktyabrskaya) Square in Minsk, Belarus, to protest the fraudulent presidential election, demand a new vote and support the opposition. The crowd thins as the night arrives, but a few hundred young activists stay on in a small 'tent city' by the huge skating rink, braving the brutal weather and trying the regime's patience. The state-owned media either ignore or misrepresent the protest, and much of the virtual discussion takes place in Belarusian LiveJournal communities. Some of these conversations are translated below.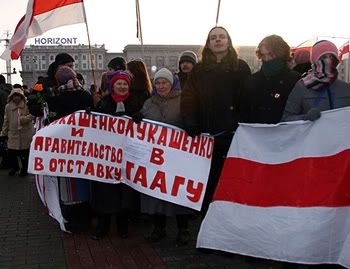 "Lukashenko to the Hague" – by Eugene Grabkin

LJ user Eugene Grabkin posts his photos from the protest and is wondering in the minsk_by LJ community (RUS) whether it is somehow possible for him to get a press card:
I could even provide photos later. ;) Because people are asking where I'm from and what I'm doing?.. And what if I'm from the [state-owned Belarusian TV]?..;)))))
Here's a recommendation (RUS) he's received:
sanitarro: Make one yourself, write PRESSA on it, minsk_by and your nickname :)

it'll protect you from the people, I guess :)))

though it may get the cops interested :)

but do write your nickname, to avoid an entrapment where a cop gets himself a similar card, but if there's an unknown nickname on it or an unknown face over a known nickname, it's easier to sort it out :)

anysyst: Yeah, write this on it: Journalist working for the largest Internet publication www.livejournal.com
***
Posted by LJ user alisunya (RUS):
I was there yesterday evening. I've never seen so many real People, sunny, sincere, fearless. Thank you for being the way you are!!!

My friend stayed there till morning. Between 6 and 7 am, she and nine more people (2 guys and 7 girls) were going to the subway station Oktyabrskaya […]. Riot police were following them, then asked them all to go into a police room at the station. My friend and two other girls merged with the people standing in the line for subway tokens, but the rest got detained. […]
***
Posted by LJ user l-u-f-t (BEL):
People in the tent city […] need water and gas burners. If any of you can help, please do. It's better not to bring the stuff over, but to throw it out of the car windows. It's safer that way. THEY ARE HOLDING ON THERE FOR ALL OF US!
***
Posted by LJ user aneta_spb (RUS):
To Belarusian friends

I'm three hours away from Minsk today and here's what I think.

The only thing reaching here are the rumors of "some people rallying over there." Not all people have Internet access, and those who do may not be in touch with those who've never seen it. My friends are intelligent people and they are against Luka[shenko], but they are pessimists and lack information. I stopped over and gave them the news – that's good; someone else would go elsewhere, too, but that's not enough. It's necessary that everyone knows about the events. If there are local activists, they should busy themselves with spreading the information. […]
A discussion follows (RUS):
egils: My Internet informs me that there'a a zero chance to overthrow Luka this time […]. First, there should be a prominent opposition figure to rally with and only then will it be possible to "orangize" [apelsinstvovat', refers to Ukraine's Orange Revolution].

shavu: no, one has to rebel always. that's the only way. when you lose – continue working. and for now, nothing's been lost yet.

[…]

the poles protested in 1954, 1968, 1970, 1980 (and this doesn't include "lesser" strikes, demonstrations and rallies) and they didn't succeed until 1989.

that's the right path shown by John Paul II

egils: Well, they could afford it in Poland. Because they always had mass opposition there: you throw some to jail, others will come. And who will replace them in Belarus?

shavu: the new ones will come. and if they don't, it means that Lukashenko has indeed been elected by the whole people. that's it.
***
Andrei Khrapavitski, a Belarusian blogger living in the United States, has translated two "Maidan stories" (RUS) and posted them on his site:
[LJ user alexan3]

For all day long, our food supplies were refilled by women and men, including seniors. People helped in every way they could – money, candies, medicines, tea, clothes, blankets. Especially touching was an old woman of about 65 years of age, who hardly hobbled with a walking stick, but she brought us her homemade bread and disposable plates. She handed us her gifts with tears in her eyes, saying, "Thank you, my dear, thank you. Thank you for not being afraid. We are with you. We will support you." At this sentimental moment, I felt like crying. Such genuine kindness is keeping us warm more than some slogan shouting. People started bringing food in private autos and cabs. But cops got an order and aligned their people along the street. They worked quickly and efficiently. A cab drives in and stops, the door opens, and before a passenger manages to get out, two cops jump in, and the car drives off in an unknown direction. Possibly, to feed the president's administration. Soon bus #100 quitted stopping here. The vermin had changed the bus's route, what was comparable to the melting of ice in blockaded Leningrad. But somehow people managed to bring in food, water…

[LJ user bullochka]

I am writing these lines on March 22 at 0:48. Of the past 24 hours, two were when I had an opportunity to sleep. An hour and a half ago, I was released from a police station. So far I don't know where my brother was who carried products to the campers. Maybe, they are still there, on October Square, joined in a circle, hand in hand, to protect the camp by their own bodies. -10 degrees Celsius of frost is crawling down on Minsk. The reinforcement won't come. No one will be able to get through the cordons of the riot police, KGB agents, blocking all access to the square. Nobody will be able to bring them hot tea or a sleeping-bag. I've understood this a couple of hours ago out of my own experience.
***
A seemingly innocent request from LJ user Jahor Shumski, elicits this discussion (BEL, RUS):
shumski: Dear drivers! Please support our defiant spirit: honk as you pass Oktyabrskaya Square in the morning. This truly elevates our mood.

anysyst: It's risky… They can fine you, for "making noise within city limits." You should warn people about what they are getting themselves into.

shumski: In the evening, every second car is honking. Maybe it's time to stop being afraid of your own shadow?

arina_skripka: I agree! Almost everyone's being fined. In the evening, there are too many cars for the traffic police to figure out who was honking, but in the morning, they do it right away, no questions… Unjustified risk (imho)

pavietra: I'm ready to donate money for fines, if necessary!

kong_en_ge: There's no fine for it. Warning in the worst-case scenario – read the administrative violations codex.

finder_bel: A question: How to attach a blue ribbon to the car so that it's visible and doesn't contradict the driving rules?

kende_r: I've seen cars with ribbons on their antennas today.
***
Ivan Lenin of Rush-Mush has translated a summary post (RUS) by LJ user lipski who has been providing regular updates from Oktyabrskaya Square since the very first day of the protest:
The Belarusian Maidan [Maidan means 'square' in Ukranian, referring to the Orange revolution – IL] has not won, but failed. From the very beginning, March the 19th. Yes, some people have got rid of fear. Yes, there was mass action that Minsk hasn't seen in a long while. Yes, it hasn't been suppressed. BUT. It wasn't supressed not because anyone is afraid of EU sanctions, but because there wasn't a need to supress it. Such development demonstrates the weakness of the opposition and plays into the regime's hand. "Maidan" as it is right now, is good for the official TV's picture. It's turned into an instrument of the regime's propaganda, not the opposition's campaign. "Maidan" is happening not because of its defenders' heroism (no irony here), but thatnks to the goodwill of the regime. The tent camp could be taken out tonight, nicely and quietly, when there are 200 people in there, just like they took out the first tent on the square. And I'm almost positive that that wouldn't cause an explosion of protests or international sanctions.

As four days have passed, we see no political dynamics. The protests are dying down. With each day, there are fewer and fewer people. On monday, there were 7-8 thousands, yesterday – 3,500 to 4,000, and today – around three. The same tendency as in fall 2004. There is no plan, no action, no palpable goals, no organization. The situation can only be rescued by a mass action on March 25th, but it doesn't look like it's being seriously prepared.

In my view, it's wrong to identify the events in Minsk with Maida, as many people do. A better analogy would be "Ukraine without Kuchma", which didn't succeed, but became a foundation for the Orange revolution. After the "Minsk maidan", what has to follow is organizational work, if the opposition wants to accomplish something, and is psychologically prepared to take power into its hands and to take charge.
Top World Stories