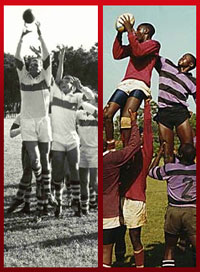 Image courtesy of White African
This week has Kenyan bloggers writing about very diverse topics, let us start with sports
White African reminisces about rugby in Kenyan High schools , generating about 20 comments, that is how passionate Kenyan's can be about rugby.
Kenya Cricket has an excellent play by play rundown of the game between Kenya and Zimbabwe.Kenya wins!
Another sport that Kenyans are passionate about – drumroll please? Soccer. habari Kenya writes about "Man U vs Arsenal vs the rest" reffering to the English premier league, that Kenyans follow quite closely.
Sadly, Memoire exits the blogging stage with a finale that discusses her thoughts on blogging, i do hope she comes back in future as does Adrian. He invites his readers to make him happy by bidding for a good cause – proceeds go towards habitat for humanity. With a starting bid of 425,000, he wishes someone would convince memoire to come back to blogging. The reason why her exit is sad is that memoire would post about shared experiences that are uniquely kenyan, and thus she will be missed greatly.
Unganisha is back after a 6 month break, with a vivid post "Kampala Endless Nights" about his trip to Kampala. This post is particularly apt as Uganda borders Kenya, and had elections this week, where Yoweri Museveni won the election.
Kikuyu Moja shares his thoughts about the challenge of harambees (fund raising) for a social project like a children's home. He considers the perceptions of Kenyans towards charity.
…Hence, the provoking allegation that I would like to make and on which I would like YOU to comment on is that there are a lot people out there – no matter what nationality – that don't give a damn about others. And it's not only that they don't care, it's also that they seem to think that OTHERS might be responsible for the fate of street/abandoned children, the environment, politics / etc..
Charity begins at home? For them it ends at home.
Gukira posts "On being clever". He discusses how the Kenyan school system encourage a certain brand of 'clever' if you will, and how those who've gone through the system would understand how the word 'clever misrecognizes the technical facility for intelligence'.
Kenyan Pundit live blogged the TED conference in California, where she gives us good news about the 2007 TED conference in Africa.
The conference will be in Arusha, Tanzania from June 3-7. The theme will be Africa: The Good News. TED will be providing 100 scholarships to make it possible for (young) African thought-leaders, entrepreneurs, activists, creative souls, bloggers etc., from the continent and the diaspora.
This january post by the journalist John Kamau, is worth a read, as he interviewed Isaiah Mathenge 'The last governor of Rift Valley'.
There is always commentary about politics, and this past week, more to life looks at kenyan politics, and other recent news using the metaphor "The pontius pilate syndrome", with "Government of Kenya as pontius Pilate, Raila and LDP as the pharisees, the real culprits of the Anglo leasing and Goldenberg scandals as Barrabas and the usual screaming crowds as themselves."
You missed this gives his reasons why he thinks "…That The Current War On Corruption Is A Train Heading To A Place Called "Nowhere""
Wangu of the group blog virtually insane writes a very sane piece about the current kenyan affliction if i may call it that, of how kenyans respond to corruption and famine, and ends with an examination of the kenyan dream. She asks, "what are we waiting for?"
Nyakehu shares her thoughts about the famine in Kenya, as does What an African Woman thinks who notes "When it is has become commonplace to vie for right of way with (emaciated) cattle in Nairobi, you know that there really is a drought and it is very serious."
We conclude with some poetry, the piece "You" by lifemoments, and the piece "In Praise of Love" by Munaks,where he provides an english translation and historical context of the swahili poem.
Top World Stories